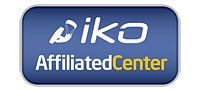 We give kitesurfing lessons on Famara Beach when the wind and tide conditions are appropriate for you to learn in the best way possible. We take advantage of low tide when there is more space on the beach, meaning the learning process would be safer and easier for you.
As we have mentioned before, our instructors are graduates of IKO and Spanish Sailing Federation (Kiteboarding department) and our school is an Official IKO School (International Kiteboarding Organization), therefore we follow a refined and effective teaching methodology to the highest standards that guarantee your becoming an independent kiter while perfectly balancing fun and safety.
Kitesurfing combines the techniques and the adrenaline of surfing, windsurfing, snowboarding and wakeboarding which makes it one of the most fascinating water sports ever known. Gliding, power, speed, jumps, levitation, waves, freestyle – all of this and much more you will find in Kiteboarding. Despite appearing difficult, this sport is easy enough to get the hang of, since all the techniques can be practiced on firm ground, and with a proper teaching approach, it is possible to learn everything you need to become an independent kiter in just a short period of time.
ZooPark Famara Surf, SUP & Kitesurf School offers equipment of the brands Cabrinha, North and Liquid Force that is kept in perfect condition and renewed every year: kites, boards, helmets, harnesses, wetsuits, rash vests, impact vests, etc. Also we have a jet-ski and a Zodiac at our disposal just in case.
With a 5-day kite course, you will become self-sufficient and ready to enjoy this incredible sport with total safety, as much for yourself as for other people at the spot. And on top of that at the end of the course, you will receive an Official IKO Kiteboarder Card verifying the level you have acquired, the benefits of which include the possibility to obtain a special worldwide insurance for kiters, to rent equipment wherever you go, to receive special discounts and offers and much more. And well… can you imagine showing it off in front of your friends?